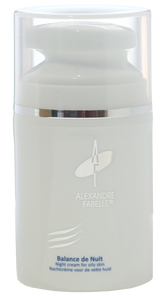 voor de gecombineerde, vette huid en acne huid
Balance de Nuit is een crème voor de erg vette- of glimmende gedeelten van je gezicht. Er staat dat het een nachtcrème is omdat de geur minder prettig is, maar het is eigenlijk beter hem eerst gedurende de dag op te brengen daar deze crème je huid mooi matteert.

Alleen op de erg vette gedeelten van je gezicht aanbrengen.
Deze crème is niet geschikt voor een normale- of droge huid. 
Balance de Nuit beschermt je huid tegen het binnendringen van bacteriën.