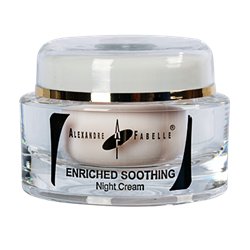 Voor de gevoelige huid en zeer droge huid
Een zachte emulsie die perfect wordt verdragen en die een comfortabel gevoel geeft.
Voor de huid die wat extra voeding nodig heeft, de huid die gevoelig of uit zijn evenwicht is.

Met organisch silicium en Caviar Extract.

Enriched Soothing Cream is een fijne romige crème voor normaal tot droge en gevoelige huid, ofwel een huid die uit balans is, trekt en voor een huid die vervelend aanvoelt, die jeukt of kriebelt.