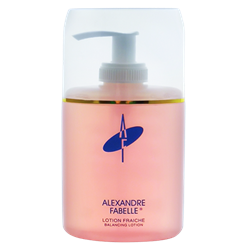 Lotion Fraiche gebruikt u altijd direct na het reinigen, want deze lotion neemt de resten van Lait Doux weg en brengt uw huid tot rust.
Lotion Fraiche bereidt de huid voor op het opnemen van de verzorgende crèmes, hetgeen het rendement van de dagelijkse huidverzorging aanzienlijk verhoogt.

Lotion Fraiche werkt verzachtend en herstelt de negatieve invloeden van het vaak veel te harde leidingwater. Dit mede dankzij verschillende bloemenextracten (onder andere melisse).
Reiningingstip voor een droge huid
Heeft u een gevoelige of droge huid en bent u opzoek naar een geschikte gezichtsreiniger? Lait Demauillant Doux is een heerlijk zachte reinigingsmelk die moeiteloos make-up en onzuiverheden verwijdert. Dit reinigingsmelk bevat natuurlijke oliën waardoor de huid noch vet of plakkerig word, bovendien blijft de PH-waarde onaangetast.
Reinigingstip voor een gecombineerde huid
Heeft u een gecombineerde huid? Hydra Mousse is een luchte reinigingsgel die de make-up gemakkelijk verwijdert, het houdt de PH-waarde van de huid in balans en is 100% zeepvrij. Gebruik Hydra Mousse in combinatie met de E-Cleanser om tot diep in de poriën te reinigen.